The design of the Elk Creek Sauna with an exterior loading stove eliminates dragging wood through the dressing and stove rooms and its drawing fresh air from the outside ensures efficient and clean air circulation. Inside temperature depends on many variables and can be controlled by changing the amount of oxygen allowed into the stove and the size of the pieces burning in the stove.

Saunas have a tradition in many cultures around the world. In addition to the Finnish tradition, saunas have a history in Austria, Estonia, France, Germany, Latvia, Lithuania, Korea, Japan, Russia and in native American culture.

Sauna practices vary in the different cultures. In Austria, Germany and the Benelux countries most public facilities offer only mixed gender nudity compulsory facilities whereas in France and the United Kingdom single gender saunas are most common and nudity is tolerated in the single gender saunas but usually prohibited in the mixed gender facilities. In Finland swimsuits, towels or other garments are rarely worn in the sauna.

Some information about the Elk Creek Sauna experience

The temperature ranges between 112° F and 160° F
Please review our sauna guidelines before your first visit.
Elk Creek Sauna in Winter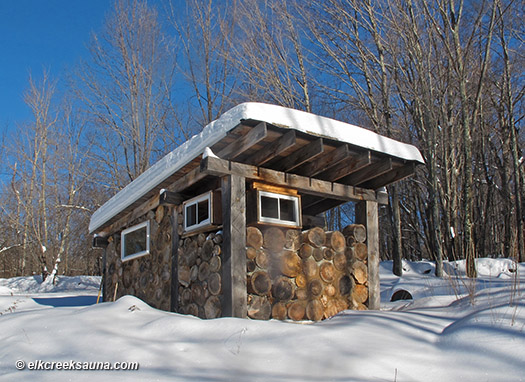 The traditional wood fired sauna experience during the winter time is especially invigorating.
Thoughts on the Sauna Experience
"Elämä ilman saunaa tuntuu minusta mahdottomalta."
("Life without sauna seems to me impossible.")
-- Urho Kekkonen, former Prime Minister and longest-serving President of Finland. Awarded the Lenin Peace Prize in 1979 (comparable to the Nobel Peace Prize).
"The sauna… Is an apotheosis of all experience: Purgatory and paradise; earth and fire; fire and water; sin and forgiveness. It is lyrical ecstasy. It is resurrection from the dead. It is eternal new birth… You are healed, you are made new."
-- Constance Malleson from her book, "In the North: Autobiographical Fragments of Norway, Sweden, Finland: 1936-1946."